A few years ago, I started making the effort to expand my dialogue about storytelling by going beyond the boundaries of books and out into the mediums of TV and film. I do so by doing these analysis pieces once a while about a TV show or film that has reached a significant time in its history (i.e. series premiere, series finale, film release, anniversary of a release, etc.). Previously, I dug into the layers of the YouTube Red series, "Cobra Kai." Today, in honor of its series coming to an end yesterday, I shall continue my exploration of my favorite content in the streaming world by delving into a nuanced revival of an animated series originally from the 80's. Today, I'm talking about the Netflix series, "Voltron: Legendary Defender."

The Galra Empire is the galaxy's greatest threat to all civilizations. While there is a force strong enough to stop it, a legendary robot warrior called Voltron, it has been thousands of years since it was last seen. After one of the five lions it's comprised of is found in a cave by five young space pilots on Earth, they along with – supposedly – the two surviving members of the Altean civilization come together to bring back Voltron and save the universe.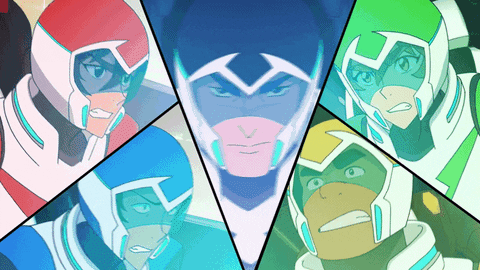 "Voltron: Legendary Defender" is the latest reboot of the "Voltron" franchise. While I've definitely heard of "Voltron," the original one was on the air well before my time, and so I wasn't really familiar with it beyond the iconic Voltron robot. It's because of my lack of familiarity for the franchise that I didn't start watching it when the first season was released on Netflix back in 2016.
Unlike most Millennials, I actually don't really care for many of the series put out by Netflix. I was never into "Stranger Things," I think "13 Reasons Why" glorifies suicide, etc. What got me to watching "Voltron" was both wanting something to watch on Netflix and a detail that I had known about this reboot since day one: a majority of the creative force behind it had worked on "Avatar: The Last Airbender" and "The Legend of Korra." I watched the first seven seasons in two months.
At first, the series was a little slow for me, but overtime, it grew into something that I really enjoyed. The characters are all nuanced, the animation is spectacular, the storytelling keeps you on the edge of your seat, the humor – while overdone at times – is spot on otherwise, and I love how the journey they are all on is larger than life. There are traces of what made "Avatar: The Last Airbender" so great in all these aspects, which is why I've been telling people that if want to see an animated series similar to it, that has that same wit and depth, but in a sci-fi universe, then I would strongly recommend "Voltron."
Comparisons aside, it's just a genuinely well-told story; one that is done in such a way that, based on the clips I have seen from the original series, triumphs even that. While, understandably, it is targeted for kids, it's another one of those shows where the viewership exceeds the targeted age demographic. That's how you know you have something very appealing.
It's just such a shame that, once again, I arrived late to the party, and now the series has reached its end, four months after I started watching it. Fortunately, it's a Netflix series, and so it will be there that I can slowly binge to my heart's content whenever I want.
Never had I ever thought I would find myself in a position where I could answer the question, "What is your  favorite Netflix series?" Well, now I do have an answer, and it is "Voltron: Legendary Defender."