It feels like so many trailers and teasers have dropped as of recently of a lot of storytelling that is to come ahead. From TV shows to films, there's just so much that is on the horizon.
Apart from telling stories of my own, I'm also an adamant consumer of stories, and while I occasionally take the time to address some of what I'm into and am following here on this blog, I figured I take it up a notch and start up a new segment about it. This will be the first of my "On My Radar" listicles;  where I'll occasionally go over some of the stories that I'm looking forward to that has received a lot of hype in recent time and is on the horizon. Today, I shall be highlighting an upcoming novel from a supernatural fantasy series, the second season of an YouTube Original series, and the beginning of the end for a particularly beloved film saga.
Storm of Locusts by Rebecca Roanhorse
Storm of Locusts is the second novel of The Sixth World series, where in a post-apocalyptic world, the gods and monsters of Dinétah legend walk the land. In the month since the infinite showdown at Black Meca, things are not going well for monster hunter Maggie Hoskie when she receives word that her former friend, Kai, has fallen in line with a mysterious cult called the White Locust. Suspicious of what is really going on, she and her acquaintances, the Goodacre twins, head straight on into the horrors of the world beyond Dinétah to investigate.
I read the first novel of the series, Trail of Lightning, last summer, and needless to say, author Roanhorse is a Nebula Award nominee for a reason. That book left me wanting more. The fact that we are now that much closer to finding out what happens next is a thrilling feeling.
Storm of Locusts will be released on April 23rd. Be sure to check out my review of Trail of Lightning to get a taste of what you're in for.
2. "Cobra Kai" Season 2
After the mind-blowing success of the release of the first season of this continuation of "The Karate Kid" saga, less than two weeks remain until we see what comes next for the YouTube Original series, "Cobra Kai." The rivalry between Johnny Lawrence and Daniel LaRusso is reborn after the former re-opens the Cobra Kai dojo. After their first win in decades at the All-Valley Karate Tournament, things are about to be taken up a notch as Daniel starts to open up his own dojo and Johnny's former sensei, John Kreese, makes his return.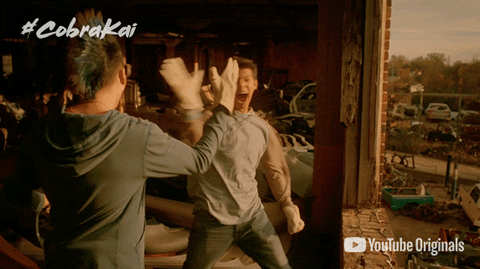 Like many, I was skeptical about how this series would turn out. I grew up on "The Karate Kid" and so this is a universe that has a lot of meaning for me. I was blown away by how well the first season was written and executed, and based on what I've been hearing from early impressions of the second season, the quality itself will also be taken to new heights. So I'm looking forward to the episodes being made available.
"Cobra Kai" Season 2 will be released on April 24th. Check out my piece I wrote last year about the first season.
3. "Star Wars: The Rise of Skywalker" directed by J.J. Abrams
If you don't already know the title of Episode IX of "Star Wars," then you truly must come out from under your rock. Star Wars Celebration is currently happening in Chicago, and yesterday, after a panel spent sidestepping direct answers to direct questions about what is to come of this final entry to the Skywalker saga, we finally got a trailer and a title!
No official synopsis is released yet for this film, other than it being the last of this particular saga. However, if you've been following along for a while now, then you already know that I am absolutely hyped for this. While I may have my minor critiques at times about the different stories being told from the "Star Wars" universe, for the most part, it really doesn't take much to please me.
"Star Wars: The Rise of Skywalker" will be released on December 20th. Be sure to check out the two previous posts I did for the releases of "The Force Awakens" and "The Last Jedi."
If you are able to, I hope you can go support me in all that I do by leaving a tip over on Ko-fi. I do a lot of writing that I get paid very little for or not at all, and so this is a way of showing your support other than just reading my content. Donations of varying quantities and frequencies are greatly appreciated.