Rarely do I ever get to write about theatre on here; probably because when I do, it's when I have something being shown, and the few times when I go to a professional production is often for work-related reasons. I don't get to go to the theater just to experience it anymore. However, last week, I did, and it was a production that I never thought I'd get to see, until nine months before when the tickets were bought. Last week, I finally got to see Lin-Manuel Miranda's Tony Award-winning musical, "Hamilton."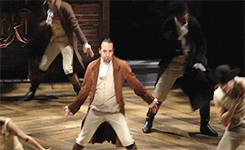 While I usually tend to ignore anything in the mainstream media that gets really hyped up, "Hamilton" is a rare exception. Ever since the original Broadway cast, I've been a fan of the innovative take on telling the life story of Alexander Hamilton, by way of hip-hop and a cast representative of what America looks like today. I have listened to the original cast recording enough times to know it down to each beat and cue, I'm familiar with the history of how Lin-Manuel made it the phenomenal hit it is now, I've listened to the different iterations of the songs via the "The Hamilton Mixtape" album and the #Hamildrops, and the first time "Hamilton" was showing in San Francisco two years ago, I entered in the raffle for the majority of the days it was showing (and never succeeded in having luck on my side). How grateful I am for my friend who I saw it with, who bought tickets when we learned it would be coming back for a second round in the City by the Bay, and it was everything I had expected and then some.
It is truly remarkable how timely this musical is. While its first performances date back to 2015, a majority of its history has been in the midst of this crazy-ass political climate we currently find ourselves in. I'm not surprised that my friend had asked me when "Hamilton" first started performing, for it was as if Lin-Manuel predicted that this is a musical America – and the world – would eventually need. When you have a president in office who's telling people of color – even those who were born here – to "go back to where you came from," in the first act of "Hamilton," applause briefly erupted when Hamilton and Lafayette agree that "Immigrants – we get the job done."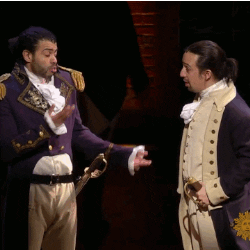 Apart from its timeliness, its timing in my life is extraordinary. While I haven't really been vocal about it, I'll be honest when I say that this past month has been a bit rough on me, with quite a number of unfair instances occurring. After enduring all that, I recently made the decision to really focus on the writing that I am doing, with the long-term goal of working towards where I want to be in my career. Getting to see a musical about a man who wrote his way out of his circumstances and eventually wrote 51 of the Federalist Papers was really motivating for me. As the lyrics went, he was "writing as if he was running out of time," and I feel that that's how I need to approach my writing going forward, if I have any intention of getting where I want and need to be in this lifetime.
I admire and appreciate "Hamilton" so much more now than I had prior to seeing it. To have the opportunity to see it again one day is one that I'll definitely grab. It's a timely reminder of how this country came to be and a well-timed reminder for me to not waste time and really, truly write.
If you are able to, I hope you can go support me in all that I do by leaving a tip over on Ko-fi. I do a lot of writing that I get paid very little for or not at all, and so this is a way of showing your support other than just reading my content. Donations of varying quantities and frequencies are greatly appreciated.